Make it work, fit and last longer! The kids grow in front of your eyes and we are now bringing a solution how to keep their favorite outerwear for multiple seasons. With our Grow up system, the sleeve or leg length can be adjusted by 7 cm. A win-win situation for you, your wallet as well as the planet. So make it work, fits well and, most importantly, lasts longer.
---
We know that kids grow faster than we would, and often our wallets as well, want them, when it comes to buying clothes. And that's why we've developed the Grow up system, which ensures that winter jacket and pants will last your little rider for at least a season or two longer. In addition, buying such a jacket is definitely the right choice when behaving responsibly towards nature. Due to our Grow up system, it is possible to comfortably extend the length of the sleeves and pants up to 7 cm. It works easily. There are three buttons on each sleeve and pants, and with each move up the button, the length of the sleeve and pants increases by about 2.5 cm.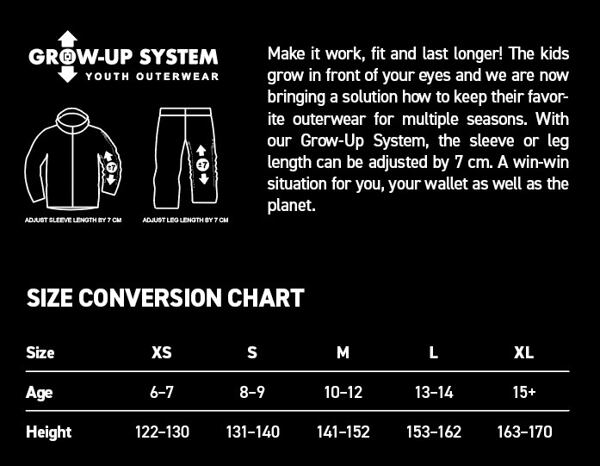 Our junior riders Maty Krejčí and Timon Matěna also ride in jackets with the Grow up system.
PRODUCTS WITH OUR GROW-UP SYSTEM