Last year, two Czech bikers decided to do something you just don't see usually. Climb Kilimanjaro, the highest mountain in Africa, and ride it down on bicycles. This crazy idea could not have originated in the mind of anyone other than our biker Tomáš "Leader" Zejda. He managed to got his friend Ondra into it, and when there were two of them, they only needed someone to document the whole thing. And Patrik Paulínyi was more than a suitable candidate for that. You can find out how it all turned out in a document that you will only find in this blog so far. Be sure to read an interview in which you will learn a lot of behind-the-scenes info from the whole trip. Enjoy!
---
Firstly tell us why Kilimanjaro, the highest mountain in Africa?
Tomáš: For a simple reason. Because it is the highest mountain in the world, where you can go more or less without some great experience and climbing equipment. The goal was to ride at least some part of the mountain on bicycles, so Kilimanjaro seemed to be the best choice. A few people have already gone there with a bicycle, so we knew it was real.
Will you introduce us to crew members? Who took part in this trip?
Tomáš: Apart from me, there was my friend Ondra, who is always for any "stupid" idea, so when I told him, he was 100% determined that he wanted to go with me and I knew from the first moment that he is one of the few who will try it with me, even if it should not turn out successfully. And the moment we were two, we said to ourselves that it was enough for us because the fewer people, the easier it would be. And that it would be a shame to climb such a high mountain without anyone documenting it. So the guys from Horsefeathers, who sponsored this trip, recommended Patrik Paulínyi. We didn't know him at all before, but he liked the idea and had time, so of course we agreed. And I think it worked out great.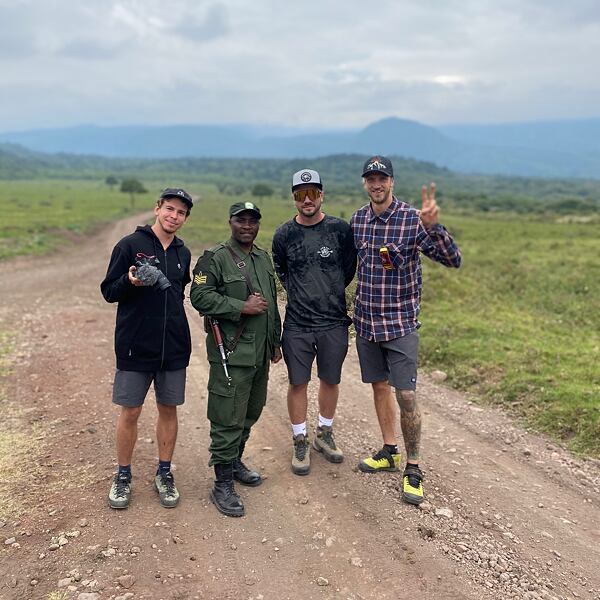 Patrik, what came to your mind first when Horsefeathers asked if you want to climb Kilimanjaro and shoot bikers?
Patrik: Kilimanjaro has never been so interesting to me that I would like to go there. I was always discouraged by the fact that you have to go there with guides who carry your stuff and really "pamper" you there. But I liked the fact that the guys decided to go there on bikes. I immediately realized that this might lead to an interesting document. I was excited about it from the beginning and I was looking forward to being able to contribute with what I am doing and that I would be able to experience it with them.
And did you get along? People who didn't know each other before and went straight to Africa on a trip like this?
Patrik: Each of us was a different character, but we complemented each other in some way, so it was great. Tomáš is a mega fun guy and he and Ondra were sometimes like Pat and Mat, haha. So I had fun and I definitely enjoyed the trip with them.
Tomáš: I also really enjoyed it. Of course, different situations arose now and there, but they rather stemmed from the fact that we had a problem with our guides, not with each other. We three had a friendly atmosphere with the humor that belongs to such trips. Because if we were taking it super seriously, we would be unnecessarily stressed by situations that are not important to deal with in such conditions. If your life's not at stake, nothing is at stake. I liked that there were a lot of question marks at the beginning, both about the hike and the guides, and also about Patrik, but in the end it turned out to be absolutely great.
Let's move on to the trip itself. As you mentioned, all three of you met at Vienna Airport, flew straight to Africa, and how did it go from there? Did you arrive and have a few days to acclimatize, did you find the guides or did you have everything agreed and prepared in advance and went straight on the hike?
Tomáš: I don't like planning very much, I prefer to go with the flow, and believe that it will always turn out somehow. So what had to be planned, I planned, but most of the things I tried to let be. I like to do things a bit in that good old punk style. When we arrived there, we had two days to acclimatize and only on the spot did we decide to go on safari. But in the first minutes, the first disappointment took place, because we did not see any animals or safari.
But you have a photo with a giraffe..
Tomáš: Yes, in the end we saw some giraffes and zebras, so we were thrilled. But we had the expectation that we would ride our bikes through the country and watch the animals, but in the final we were not even able to ride our bikes, due to the incredibly bad terrain, which also led mostly uphill. But in the end, some nice shots came out of it, so we just laughed about it.
Patrik: I had terrible remorse about that safari at the time. Because that was actually my idea and then they had to ride the bikes in the worst terrain, while I was sitting in the car. Only then did we find the giraffe that I was grateful for, because I already felt so nervous about it. We just expected that we would ride there directly between the animals and they were almost never any.
What was the biggest fail that happened to you?
Tomáš: There was more of them, but probably the biggest fail was that they didn't let us take our bikes. On a bike trip. Where the documentary about bicycles was filmed. At first they promised us that we could go on them, but then they changed the planned route and chose the one that was a normal trek on stones and roots, where it was not possible to go on our bikes. And that was repeated for another two days, so we already said that when we come home with a bike documentary, in which we just walk, it probably won't be quite good. Our bikes were then probably brought there by car, but another fail was that my bike broke. My brake exploded and it was a problem that had to be solved at 4000 meters above sea level without any tools and without service. So we were trying to fix it in a punk way. Sunflower oil, which definitely does not belong there. With the mouth that definitely should not do this. But somehow it worked out fine, what a bizarre. Not to mention that I didn't remember it at the top in that euphoria and adrenaline. With a mortgage and a pregnant girlfriend at home to ride down Kilimanjaro with one brake, it was not 100% on my part. So we had the trip spiced up with a few awkward situations, but I think it just diversified the documentary and I just like that it's mostly like that. We have a lot of real authentic shots and people should see that, so it's good that we've also experienced the worries and a little bit negative things there.
How long did it take you to climb it up?
Patrik: After two acclimatization days, we started the ascent. The first day to the camp at 2700 metres above sea level, the next day to 3700 metres above sea level, the third day we had the acclimatization day, the fourth day we went to 4700 metres above sea level and on the fifth day we were up. So the ascent took as five days. On the way down we then slept lower in that camp and the next day we went all the way down. So together the ascent and the way down took us six days.
You can see in the document that you were quite sick at the top. Did you expect that it would be so physically demanding to climb 5895 metres above sea level?
Patrik: I wouldn't say it was physically or mentally demanding, but rather that you don't know how your body will react to that height. The problem is, that you can't really prepare for it. Because I was not at such heights before, I did not know how the body would behave. Even some great athletes don't have to be able to make it up, just because of that height, but you may just meet retirees who are fine with it. At the highest part of the ascent, you have to make tiny steps so that you don't go out of breath, so the result is that you are walking very very slowly. Just to give you an idea, I was already out of breath from drinking water. While I pulled that sip of water out of my camel bag, I was absolutely out of breath. You just drink one sip of the water and then just breathe it out for half a minute.
So your lungs can't handle that altitude, do they?
Patrik: Yes, but so does the heart. You have a much higher heart rate there, because you have less oxygen in your blood, so your heart has to work faster to oxygenate your body. Which is demanding on the heart, lungs and the whole organism. There was also a moment at night when the strong wind started to blow and it was terribly cold. Both mine and Tomáš'es feet started to freeze and I caught such a minor crisis that I was out of the energy and so I put on all the clothes I had. Mentally, the situation got even worse, when we met a guide who was returning and had such an altitude sickness that he could not even stand on his own two feet and was rolling there on the ground. The water in our camel bags froze, so it was all such a mental slap in the face. Then it was better for a while until Ondra and I got sick. I felt like I was going on autopilot mode, it was all like a dream, I didn't realize where I was and how wonderful it was there, I just walked. When we were up there, suddenly someone handed me my phone, I didn't understand why he had it, and only then did I realize that he was actually taking pictures of us because we were at the top. I just had some memory gaps, I can't describe it, it was weird. And in that state, I had to start descending. In pain. I was still sick on the way down, but when I descended the first 1000 meters of altitude, I felt that as I lost that altitude, my condition improved. In the first camp, the boys were waiting for me, who ride it down on bikes, and there all the sickness was gone and I felt fresh again, as if nothing had happened. For how sick I was up there, it seemed completely unbelievable to me, how it all suddenly disappeared, and I was completely fine. And I could go on and envy the boys another 10 kilometres long ride down to the next camp on the bikes.
Tomáš, wasn't you sick?
Tomáš: Not really, I was tired, I realized I was weaker than normal, but I didn't want to admit it at all and it somehow worked out for me.
Did any of you there have a moment when you thought you wouldn't make it to the top?
Tomáš: Well, at one point, Ondra said that he really wouldn't go on. He looked really broken, and his expression showed that he really wasn't well, but he was motivated by the fact that we wanted to continue, so he leaned on the bike and continued slowly. Patrik also started to feel sick, so the whole situation escalated, but from the beginning to the end I believed that all three of us would just climb up there.
Patrik: As far as I'm concerned, even though I was physically sick, I was relatively well mentally, so I knew that I would somehow just make it, even though I was feeling awful. But mentally the hardest thing for me was the moment I already mentioned, when we met a guide with altitude sickness that fell to his knees, the wind came, it was terribly cold and our camel bags with water froze. It all really bothered me then, and I realized it wouldn't be that easy. But when we got under the top, I felt lucky and at that time I was already convinced that we would make it.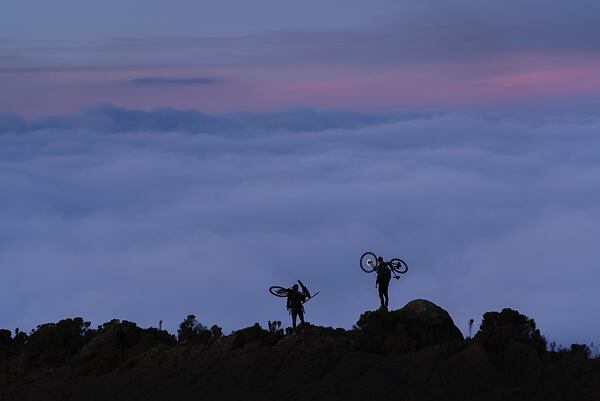 Well, as you mentioned, you climbed the last part at night, so you just came there at sunrise. How was it? Suddenly, after those five days of walking and suffering, health problems, climb up there and experience the sunrise on Kilimanjaro?
Tomáš: It was the best! Really, it was great. At that moment, I realized how lucky we are that we have nice weather. We had a beautiful sunrise, we all climbed up there and all the unpleasant situations we experienced along the way, with these views and the euphoria of being at the top, completely disappeared. We could return home with our heads held high.
Was it possible to ride the whole Kilimanjaro down on the bikes? Was it possible within the terrain?
Tomáš: Yes, in the end it was surprisingly much easier than I thought. It was also a great to pass all those vegetation zones at speed. At first we rode almost on the snow and finally we ended up in some rainforest and in the meantime we passed about 4 or 5 more zones. So it was great and as I said, I rode down with one brake, Ondra even fell once and it was crazy. It scared me, but fortunately he was fine, so we kept going. It also occurred to me in retrospect, what a problem it would be if, unfortunately, something happened to him, how would it be solved at such an altitude. But luckily it was okay, and we enjoyed it.
Let's conclude with some general summary of this trip, as you evaluate it from the rider's point of view, Tomáš?
It is definitely a dream come true for me and I must say that it has motivated me further in this direction. I really liked it, it had some added value for me, it was definitely one of those truly unforgettable experiences. I have already started planning another expedition, but this time without a bicycle. It wouldn't be entirely realistic on it. I can only say that it will be really high. I take Kilimanjaro as a dream come true, but I want to find out if I am able to climb even higher. And then even higher. And then the very highest, haha.
Patrik, how would you rate this whole trip from a cameraman's perspective? Would you do it again?
I would definitely do it again. I liked that thanks to those bikes it was much more interesting. It diversified the whole story and I really enjoyed the whole shoot. It was also a huge experience for me, because it was my first trip outside Europe since the beginning of the covid. I really enjoyed it. I was even happy during some stupid drive from the airport when we were sitting in a minibus and going to a hotel or when we were at the local market. I was happy that I could enjoy the world again and it was an honor for me that the boys called me and I was able to turn this trip into some pictures and a documentary.
---
---