The destination of our last Girl Squad trip was Bali. Indonesian island located on the opposite hemisphere of the Earth about 20 hours' flight and four to ten on-board mini wine bottles away. But why did we went there? We came here for a GirlSquad trip to enjoy nature, ocean, monkeys, waves, and everything in between. So, come on with us, and let's have fun!
Adri is cooling down in the pool.
"Kateř, cool down also!"
The best rice and curry that we ever had. And beer, of course.
Right after the arrival on the island of gods, we went to explore the surroundings. We will rest after the long flight later. We checked-in at Riviera house in Canggu village, where we were going to stay in beautiful bamboo huts. We rented scooters and entered crazy busy Balinese streets. We went to check out the beach, we collected mussels and seaweed, we took a tour around surf spots, we rode skates, we had the best curry with rice in our lives, and we ended it with a beer at the party where Balinese Elvis Presley performed.
Shining Shaka sign in Riviera house.
Coconuts, machetes and plastic bag soups
The next day, early in the morning, we packed our bags for the next two days. The plan was to get to the village, from where we can go to the highest volcano on the island, and along the way, see the rice terraces. We stopped for breakfast at the local market. We were craving for the fresh coconuts. A young slender Balinese woman was sitting on a plastic chair in the corner. There was a shelf full of large green coconuts next to her. When we asked her for them, she picked up a huge sharp machete and prepared them for us. At first, we prayed for her fingers, but then it was clear that she was a professional. The coconuts were delicious.
Approximately on the halfway of our ride, Kateř found out that she didn't have her backpack with stuff for two days. She forgot it. So we needed to stop at another local market, where she bought pants (to climb a volcano) and a toothbrush. For lunch, we had soup in the same market, which they served in a plastic bag. We were the only non-Balinese people out there. For a while, we had the opportunity to glance into the life of the locals.
Our next stop was the rice terraces. We skipped attractions such as huge swings and insta-friendly bamboo hearts where everyone is taking pictures. Instead, we took a walk in there, had a real Balinese coffee, and continued in our ride. We arrived in the village, which was a starting point to a volcano climb, after dark.
You can meet the nicest people at the local markets.
A girl with the machete. She was able to prepare coconut in a few seconds.
Famous fish market. With a huge selection and a strong smell.
Rice terraces. "Look, let's go there for a Balinese coffee!"
Scooters are used everywhere in Bali.
Walkthrough the rice fields.
"What do we eat?"
Sunrise on Mount Batur
The alarm rang at three in the morning. We planned a night ascent to the highest Balinese volcano, Mount Batur. Still half asleep, we got on a scooter and drove to the place where we were about to meet our guide, which will take us to the volcano. It was prohibited to go there without a guide. A couple of strict "volcanic guards" really checked this at the beginning of the ascent.
At the agreed place, we were the first ones welcomed by a hospitable coordinator with homemade cakes and hot coffee, which came in handy at half-past three in the morning. She introduced us to our guide. He was a young Balinese guy that didn't speak English, so we didn't talk much along the way. He just gave us the flashlights, and we started our climb. The road to the volcano led first through the forest and then up through the dusty serpentines. What surprised us was that some tourists were transported to the volcano by motorcycles. When rode around us, they dusted the sand in our faces. We managed to climb to the top of the volcano before sunrise. Our guide gave us sandwiches topped with bananas and hard-boiled eggs. We found a place with a beautiful view and enjoyed the arrival of a new day on the active volcano, Mount Batur.
We are welcoming a new day on the volcano Mount Batur.
Coffee and home-made cakes at half-past three in the morning before volcano hike.
When endorphins kick in.
Surfing
Bali is known as a surf paradise. So we had to try it for ourselves. We arrived at Batu Bolong beach and borrowed surfboards from the smiling happy locals. The waves were smaller, so the choice fell on longboards. We paddled to the line-up (a place where the waves break), where it was already full of people. Despite that, we managed to catch a few nice waves. Longboards proved to be an excellent choice. Waves were smaller, but they were easy to catch and beautifully long. It was possible to ride them almost to the shore. There was an amicable atmosphere among the surfers. Everyone was smiling and enjoying the ocean.
Renka and Kateř even managed to have one party wave. They grabbed each other hands and rode it together. According to the forecast, the waves were supposed to last only until noon. Unfortunately, it was true. At noon the ocean slowly turned into a large swimming pool. The waves stopped coming. However, no one wanted to get out of the water. We waited for another wave to appear on the horizon. But it didn't. So we returned the surfboards and went for a meal at a local restaurant called warung. It looked like a buffet, where you have a variety of dishes from rice through the meat to vegetables. You choose what you want, and the nice lady behind the counter serves it on the plate or wraps it in the paper, depending on whether you want to eat it there or take away.
Concrete surfing.
Balinese architecture looks magical with a sunset.
Kateř fits in the Monkey forest.
Monkey forest
The next day we planned to visit the Monkey forest. A place where the monkeys live. They are domesticated and accustomed to humans so much that they will climb on you and demand for the food. At the local market, we bought a proper bunch of bananas, and thus prepared, we went to the monkey forest. It didn't take so long until we were surrounded by the first group of curious and hungry monkeys. As soon as they recognized that we had bananas, they climbed up on our shoulders, where they sat down and enjoyed the fruit. Each monkey gang had a leader. The biggest and strictest looking monkey. His face was usually lined with gray mustaches. He seemed robust and respectful. Mostly, when we wanted to offer the banana to a cute little monkey, the general came in and confiscated everything for himself. Sometimes, it was complicated.
When we ran out of bananas, we went to explore more remote parts of the Monkey Forest. We found a river surrounded by huge palm trees and lots of vegetation, where we felt like in the Amazon rainforest. We even discovered three springs with holy water flowing out of the rock symbolizing the three greatest Hindu gods: Brahma, Vishnu, and Shiva.
If you don't have a banana, give me your bracelet instead!
"Kiss me, maybe?"
Adri with her new fella.
Temple in the Monkey forest.
Without a proper bunch of bananas, don't even enter the Monkey forest.
Nungnung waterfall
Because of the trip to waterfall Nungnung, we had to get up early in the morning. We planned to get there before others. From the point where we parked, more than three hundred steps led to the waterfall. A bit of a morning warm-up. First was the more comfortable direction. Downstairs. But it was totally worth it. Nungnung waterfall was amazing.
Moreover, no one was there so early in the morning, so we had it all to ourselves. We didn't hesitate and jumped right into the lake below. Nungnung waterfall is about 50 meters high, and the water falling into the lake made a noise like a heavy metal band in the garage. But the water had a pleasant temperature. Slowly, the place started to fill up with people. We took a short walk around the area and then started our way up. More than three hundred stairs. We hoped that at least we will have a cuter bum in swimsuits due to that.
Nungnung waterfall was incredible!
"Hey, and there are all the stairs that we will climb up on the way back."
Refresh.
Skating on Bali
The next day we decided to check out all the skate spots in the area. We heard about the pump track, the U-ramp in the garden of the restaurant, and about lovely, not very busy roads around the villages.
Our first stop was a pump track. We were lucky as it was completely empty. It was a concrete paradise. We had lots of fun there, but then we were driven out by the unbearable heat that came at noon. So we headed to the U-ramp. None of us was extra capable of riding U-ramps, but we tried it, and at least we had a fun time.
After that, we wanted to go cruising. Just on the roads. We got on scooters and went looking for those empty uncrowded streets. We didn't know exactly where to look for them. We only knew the direction, and we left the rest to luck. We wandered purposefully for about half an hour until we came to a beautiful Balinese building that looked like some entrance gate. We parked our scooters near it and continued on skates. We found a great concrete path that led us to the ocean. Along the way, we met only a few locals who were smiling at us and giving us high-fives.
Girly talks in between skating.
Girls ride too, even in dresses.
High-five!
Bintangs and surfers
The plan for our last day on Bali was clear. To enjoy a beer in a beautiful place with a view. We got a tip on a cliff above the ocean, which had a great view on the sunset and a surf spot. We drove there, but a wooden bolt greeted us with a lock. However, not too high that couldn't be climbed over. There was no one around to shout at us for doing that. We climbed to the edge of the cliff, from where we had a great view of the ocean, where a few people rode flawless waves. We opened Bintangs (a Balinese brand of beer) and enjoyed the view until the sun went behind the horizon.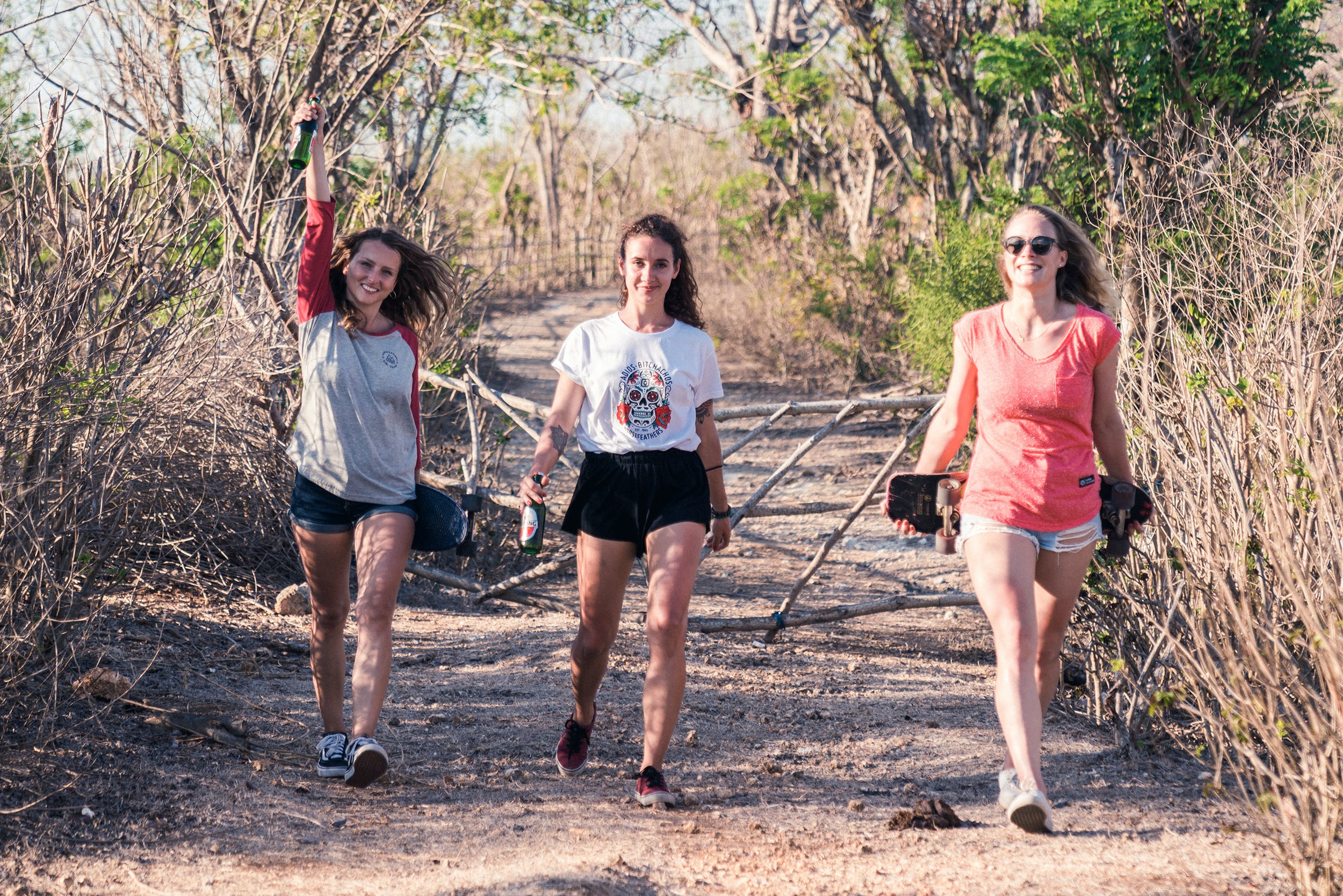 A little rebellion is always fine. Isn't it?
Sunset with the beer and ocean view.
The next morning we had to pack up and leave to the airport. We thoroughly enjoyed Bali, and we were leaving with beautiful memories, photos, and now we are looking forward to another Girl Squad trip!
@girlsquadrocks #girlsquadrocks
Girl Squad trip Bali
Girl Squad girls
If you are interested in which products from our new Spring-Summer 2020 collection are girls' favorites, we add their tips below:
Adriana: That will be hoddie Geri, tank top Cheryl and Akira jacket.
Kater: Definitely, Akira jacket, Geri hoodie, and Blade top.
Renata: For me, it is spring jacket Akira, cozy hoodie Geri, and Astrid dress for the summer.